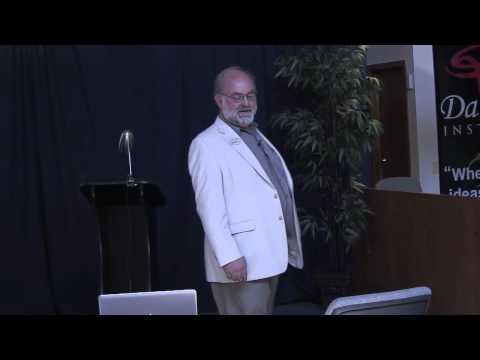 DaVinci Institute, the futurist think tank based in Louisville, CO, celebrated its 15th Anniversary on Aug 9, 2012. As part of the celebration there was a ribbon cutting ceremony and an open house to show off its many accomplishments made over the years…
DaVinci Institute began as the brainchild of futurist Thomas Frey. From its humble beginnings in a small office on Main Street in Longmont, Colorado, this seasoned entrepreneur and one of IBM's most decorated idea laureates created, nurtured and brought to fruition an organization bent on understanding and creating a better future for all.
Launched in 1997 as a non-profit organization, DaVinci Institute has emerged as a center of visionary thought, attracting both a national and international following of inventors, innovators, idea junkies and business leaders.
DaVinci Institute's current home base is in a former bank building located at 511 E. South Boulder Road in Louisville, CO. From here it hosts a variety of events including the monthly Night With A Futurist and DaVinci Labs, along with variously topical 'Boot Camp' style workshops. In addition, DaVinci Institute recently launched DaVinci Coders, an 11 week full immersion programming class. Currently offering Ruby on Rails, the training program will soon add a second class covering JavaScript and HTML5. The next round of classes starts Sept 24, 2012.
DaVinci Institute also hosts its annual DaVinci Inventor Showcase. This year the event takes place on October 13, 2012 at the Denver Merchandise Mart. The DaVinci Inventor Showcase has grown from a small gathering of inventors to become one of the nation's premier inventor events. Celebrity judges evaluate cutting edge inventors drawn to Colorado from around the U.S. for recognition in their respective product categories.  This is the 8th year the Davinci Institute has produced the Davinci Inventor Showcase.
The featured speaker this year at the DaVinci Inventor Showcase is Deputy Director of the U.S. Patent and Trademark Office, Teresa Stanek Rea, who will discuss the new patent office coming to Denver and what it will mean to the local economy.
Keynote speaker for the event is Oliver Kuttner, founder and Chief Executive Officer for Edison2. In September 2010 Edison2 was awarded the top prize in the 100 Mile per Gallon Progressive Insurance Automotive X Prize competition, winning the Mainstream class and with it $5 million
For more information about DaVinci Institute, the DaVinci Inventor Showcase or DaVinci Coders please visit www.davinciinstitute.com, www.davincicoders.com, www.davinciinventorshowcase.com or call Deb Frey, Vice President for DaVinci Institute at 303.666.4133 or e-mail Deb (at) davinciinstitute (dot) com.