HOLY CRAP! Look at that dog with a plastic bag strapped to his ass!
We're afraid that this product is exactly what it looks like: a bracket that holds a stringed plastic bag while attached to your dog's tail. At the expense of your dog's sense of dignity, you get to avoid scooping up after him:
People invented many useful technologies to make people's life easier. All these inventions (car is among one of them) are to make people's life more convenient. With our "PooTrap", no need to worry that dogs will cause environment pollution, and as dogs owners may know, actually it's difficult to pick up poop.

(video after jump…)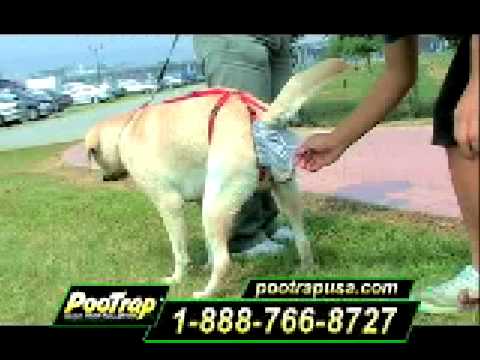 And we can't stress enough how much you should read the FAQ section of the PooTrap website. Here are some completely unedited questions and answers:
My dog will not like it for sure?

Actually, dogs don't like many things such as "they don't like shower", "they don't like to stay home alone", "they don't like to eat dog cookies", however, when they are used to all these things, they will be excited about it.

Why my dog seem not able to get used to "PooTrap"?

In many ways dog is like human being! It's like when first time people use camera to take photos, for sure it seems weird but nowadays many people around the world are using cameras for taking photos.

Dog feel not respected when wearing "PooTrap"?

Babies wear diapers and they are truly loved by their parents, hence same applied to the dogs owners who use our "PooTrap" actually truly love their dogs.
Link via CrunchGear